Doors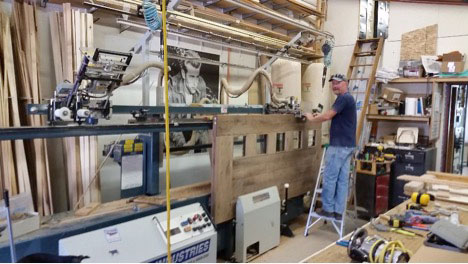 Gregory Door and Window offers a wide variety of quality doors through multiple vendors. We work with vendors who produce quality doors to fit any project. We're not just limited to what we can source from them, our capabilities go far beyond that with our talented and seasoned professionals, as well as our state-of-the-art Norfield Door-Hanging Machine. We can build the door of your dreams.
Bring your vision to Gregory Door and Window and we'll create it right here in beautiful Breckenridge, CO. The Norfield (one of our hardest working 'employees') enables us to create door magic on just about any interior or exterior door.
WHAT THE NORFIELD MACHINE CAN DO:
A simple 'match' of an old slab's hinge and knob mortise location to the new slab, which means after you take out your old slab and bring to us you take back your new slab that fits right into the existing jamb.
Pre-hang an old slab that's still in good condition in a new jamb. Of course the Shop Manager's expertise comes into play. Between the two we can give your old door new life!
Pre-hang a new slab in a new jamb, cut and mortised to any size to drop right into the rough-opening.
Build all standard size doors: Widths include (feet/inches) 1/6, 1/8, 2/0, 2/4, 2/6, 2/8, 3/0.
Heights include: 6/8, 7/0, 8/0 Thickness includes: 1 3/8", 1 ¾", 2 ¼" . The machine will accommodate other thicknesses, above mentioned are the standard sizes.
Build NON-standard size doors – tell us your dimensions – and we'll do our best to accommodate those needs! Is your door thickness more than 2 ¼"? Do you want to make a statement with your entry door? Make it shout out "WOW" – then let us build it. We have the technology, capability, proper machinery and professional expertise.
We deal in ALL species of wood, including shapes and sizes. If you need a crawl space door (roughly 2/0 X 3/0) we can build it.
Below is just a sampling of the doors we can provide. Thousands of doors are listed and shown on the world wide web. Bring or email a picture of one you like and we'll source it for you and give you a quote/estimate. We aim to have them out within 24-48 hours. We have a couple of custom door mill shops we work closely with; we can re-create just about anything.
Poplar Wood Species Custom Storm Door
Rustic V-Grooved 2Panel Tra-Top Rail Arch
1 Panel Flat Shaker Style
1 Lite Dual Tempered Glass
Tru Arch Double Full Light
Double Entry W Inlaid Mahogany Wood
Knotty Alder half-lite, V-groove