About Gregory Door & Window
Gregory Door & Window's humble beginnings….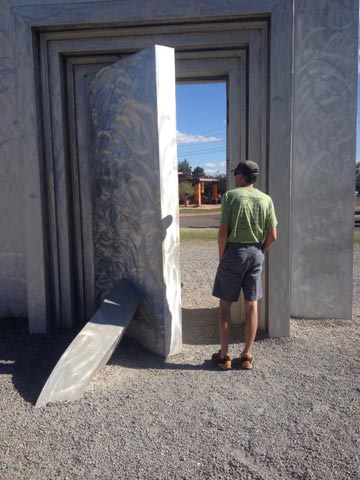 In 1982 John Gregory moved to Breckenridge from southern Illinois with a group that was promised housing and jobs. They were dropped off in front of the Gold Pan, no jobs and no housing. This situation was not to last long for John. As many newbies to town, John had to get creative. His first job was at the Main St. Arcade, owned by John Weeks. This was just the beginning of the Gregory legacy in Summit County.
In 1985 Susan, originally from Upstate NY, moved to Breckenridge after receiving her Bachelor of Arts in Radio/TV from Ashland College in OH. Susan and John met at the Breckenridge Cable TV located on the corner of Ridge and Adams streets in 1985. The rest they say – is history.
Early on Susan worked at the Breckenridge Ski Area in marketing and later at Myriam Enterprises, Keystone as office manager. Initially John combined his various skills while learning the cable TV tech world and had a long and lucrative career with Breckenridge Cable TV. He then went to work for a dozen years with Jerry at Breckenridge Crane. During this time they raised two sons, Brandon and Josh, and became very invested in the community. Susan headed many committees at Father Dyer United Methodist Church and helped oversee the transition of three ministers over a 25-year period.
In 1998 the entrepreneurial spirit took hold and John and Susan had the crazy notion to run their own business. It was to be doors and windows, and Gregory Door & Window was born. John's brother Eric and dad John Sr. helped run the business for the first 10 years. It's now 2016, and John and Susan run the show. We've learned a lot, and the door and window business in Summit County is booming!
We welcome and service all customers' door and window needs. From a simple piece of tempered replacement window glass to a 3/6 X 8/0 X 2 ¼" custom select alder 6-lite Mission-style with double side lite majestic entries, Gregory Door & Window has you covered. Gregory Door & Window also has the only door-hanging Norfield machine in Summit County. This machine enables us to build exactly what you want.
Gregory Door & Window carries a wide selection of quality doors and windows. Combine that with our experienced crew and superior equipment and the result is a company you can trust with a project you can look back on for years with appreciation and pride.
Call, email or come in and see the Gregory Door and Window Showroom and we'll help you with any glass, window, door, trim, hardware, stair parts or sky light needs. We have incredible employees who are very dedicated, professional and knowledgeable. Thank you for the opportunity to introduce ourselves and/or being a valued customer!
---
Summit County Builders Association
Gregory Door & Window is a proud member of the Summit County Builders Association. The Summit County Builders Association is a non-profit organization consisting of Builder & Associate Members who do business in Summit County. SCBA is associated with and recognized by the National Association of Homebuilders.